New Album Release KAREWAN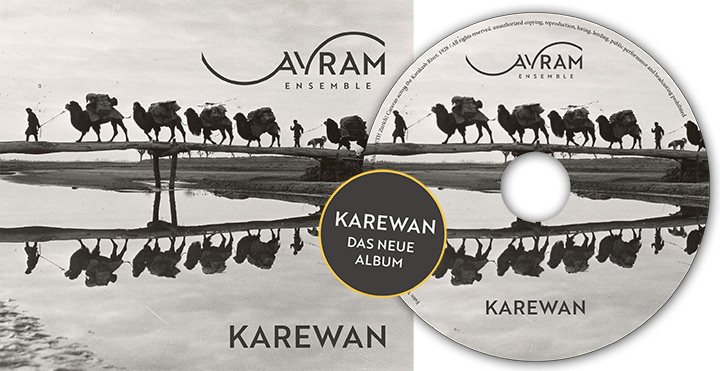 POWERFUL AND SENSITIVE... AVRAM virtuously combines world literature and poetry from the Orient and Occident to create a unique sound experience and an impressive message of peace. On this album, Schirin Partowi sings in nine languages.
CD, digipack 18,– € incl. VAT, plus distribution
» | Order via › MEDIA › CD page
AVRAM Ensemble
The AVRAM Ensemble is an intercultural line-up of virtuoso musicians with backgrounds in classical music, jazz and world music, who have decided to devote the music they make together to peace. The name of the ensemble goes back to Abraham, the forefather of three world religions. AVRAM exists to form musical bridges between cultures.
Under the artistic direction of singer Schirin Partowi, the ensemble has developed a fascinating fusion of Jewish, Christian and Islamic musical traditions and has created completely new sounds. Eastern and Western, old and new worlds of sound move towards each other carefully. The result is an unmistakably new and moving style that unites everything that lies between quiet meditation and the rhythm of impulsive dance. The music is based on both old and new mystic texts, as well as on theology and philosophy from the Orient and the Occident. With their spiritual and secular poetry, the traditional and classical songs of these cultures become the connective tissue for the imaginative, pulsating music of AVRAM.
The musicians create a vision of the future that is based on respect and leads us into a world where cultures and religions coexist. At the same time, they point back to periods in the past when this kind of peaceful coexistence was possible and a cultural upswing occurred, for example in medieval Andalusia. The musicians play this possibility into existence again and again. They invite us to respect what makes other cultures diverse and rich, but also to recognize common and mutual influences and so to develop a deeper understanding for each other.
In addition, AVRAM's repertoire is suitable for festivals and casts a musical spell that is not dependent on the themes and content.
» | Media ( Video | CD )